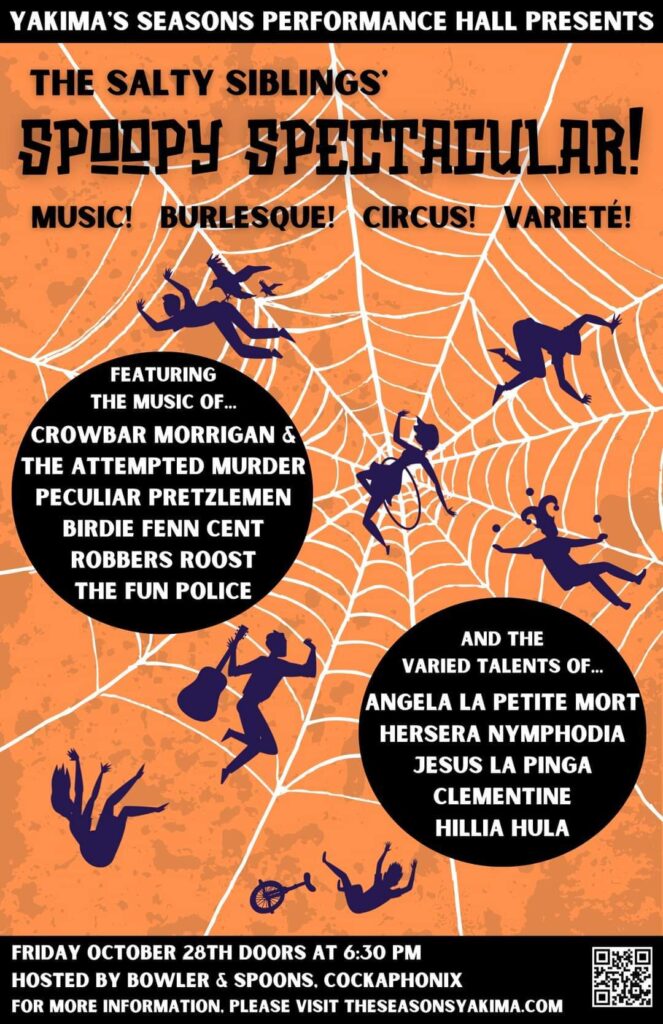 Spoopy Spectacular 2022
After the success of our April Fools Day Show, salt whispered in the wind once more and from all corners of the Washington came our whimsical yet spooooooooooky ensemble for this time not one, but 2 vaudeville shows, one in Yakima, and another in Bremerton. Once again, backed by our house band, Cockaphonix, Bowler and Spoons led the audience through a star-studded side show featuring belly dancing from Hersera Nymphodia & Nadege Margaria, hoola hooping from Hillia The Hula Hoop Extrordinaire, Drag from Nyxie Starlite and Clementine, and burlesque from La Patite Mort and EmpeROAR Fabulous. In addition, everyone's ears were kissed by the deadly sounds of The Peculiar Pretzelmen, Robbers Roost, Birdie Fenn Cent, and Crowbar Morrigan.
Yet again, disaster struck as what was supposed to be a light and spoopy night of entertainment ended up being one of MURDER as one by one, our performers dropped dead by increasingly absurd means. As our numbers dwindled, it became obvious that the only ones left, and the only ones on stage the whole night – Cockaponix – had to be the culprits. With no other oprion, the police had to be called, but not just any police (we don't trust those murderers either), The Fun Police!
"It's spoopy season, and that means your eyes and ears might deceive you." – SARA RAE SHIELDS Yakima Herald-Republic

"The The Salty Siblings' Spoopy Spectacular So rad. Pretzelmen are always a pleasure! The dancing was rad. Kelsey Stafford was Rad. Raymond Malstead was RAD! It was all rad!" – Audience Member